Last Updated on January 30, 2023 by Rohan
No other social platforms except Facebook have a feature to set a temporary profile picture. Facebook allows you to add a temporary profile picture for a duration set by you.
The profile picture will revert to its previous one after the set duration expires.
Here's how to upload a temporary Facebook profile picture.
How to Add a Temporary Profile Picture on Facebook
1. Launch the Facebook app on your iPhone.
2. Tap your profile picture in the top left corner.
3. Tap your profile picture, then choose Select profile picture.
4. Select a photo of your choice. You can add it from your camera roll, profile frames, or profile pictures album.
5. Tap Make Temporary below the profile picture, then select a duration (1 hour, 1 day, 1 week). You can even set a custom date range.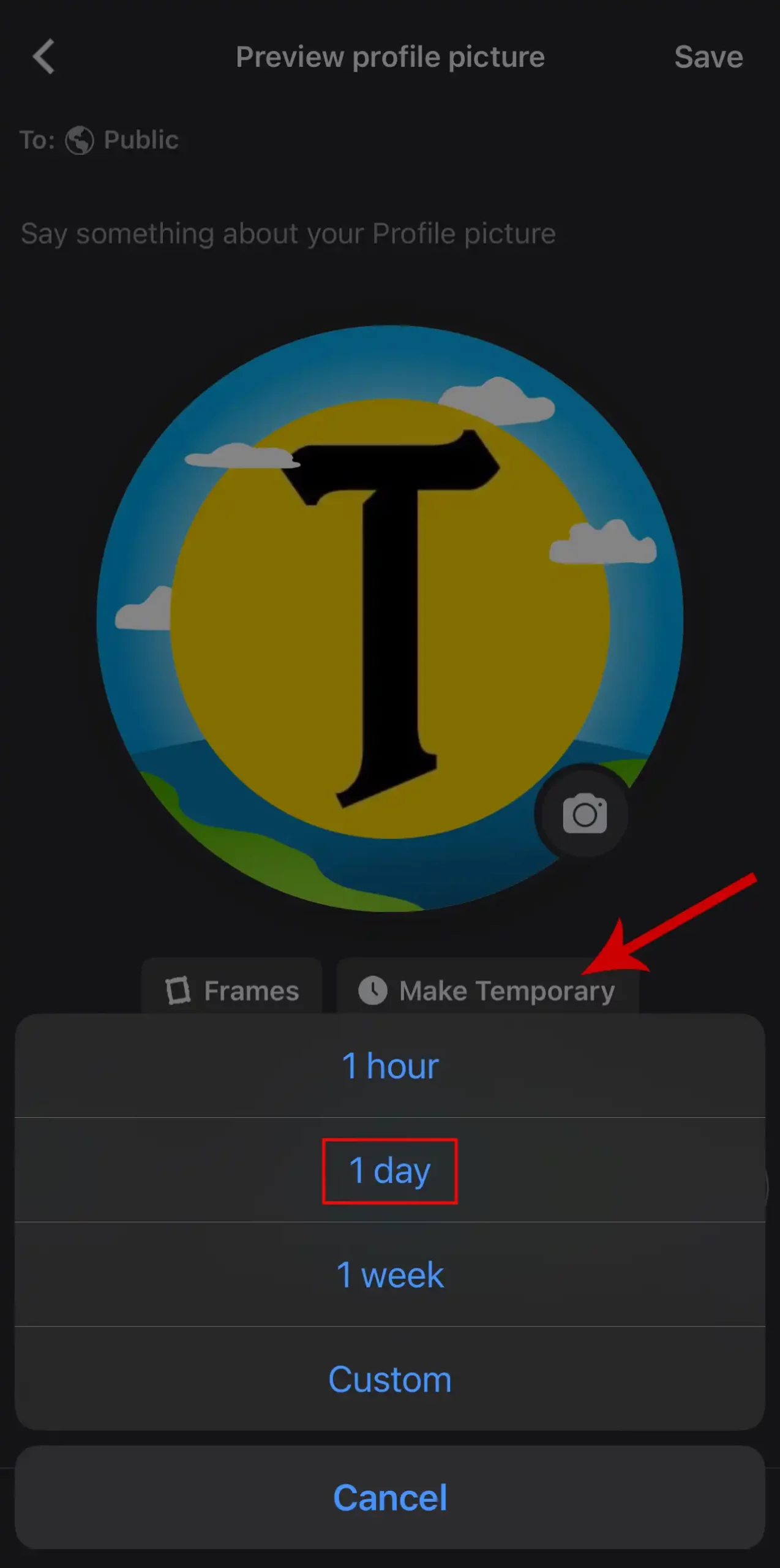 6. If you don't want to share the profile picture update to the news feed, uncheck the box next to Share your update to News Feed at the bottom. Tap Save in the top right.
How to Change or Extend the Expiration Time of Your Temporary Facebook Profile Picture
1. Tap the temporary profile picture and select Edit expiry time.
If you want to switch back to the previous profile picture or make the temporary picture permanent, select the respective options displayed on the screen.
2. To change the expiry duration, tap Change expiry time, select a new expiry time, then tap Set.
FAQs
What happens when you add a temporary profile picture on Facebook?
When you add a temporary profile picture, your original picture will be replaced by a temporary picture for a certain period of time set by you.
How long does a temporary profile picture last?
You can select an expiry time for your temporary profile picture. So, it will last till the expiry duration set by you.
What happens when a temporary profile picture expires?
Once the temporary picture expires, it'll automatically switch back to your previous profile picture. However, the temporary picture will still be visible in your profile pictures album.
Do temporary profile pictures disappear?
Temporary profile pictures do not disappear after they expire. They are saved on your profile pictures album.
Can you make the profile picture temporary after posting?
No, you can't make your profile picture temporary once it is set. You need to make it temporary before you save it as your profile picture.